Join GR8 DIVN on our California Boat Trips!

The Pacific Star



The Pacific Star is a 65 x 22 foot dive vessel that dives is and around the Southern Channel Islands.

Specializing in Multi-Day trips the Star has regularly scheduled single day, two day and three day trips to all the local islands, wrecks and reefs.

We have a very special trip aboard the Pacific Star on August 29th. Get there Friday night, the 28th, and sleep on the boat at no extra cost. We are expecting to see turtles at Henrock, so bring a camera if you have one. We'll get 4-5 dives with 85ft. visibility and 65-73°F water. The trip is $145 and all food is provided but you must bring your own air and weights. You must also provide your own transportation to and from the boat. Make sure to bring at least $20 cash to tip the divemaster and boat crew. Give us a call to reserve your spot before you miss your chance!

Upcoming Trips
8/22-23: Two Day Adventure Aboard The Pacific Star
8/28-29: Two Day Adventure Aboard The Pacific Star
9/19-20: Two Day Adventure Aboard The Pacific Star
10/3-4: Two Day Adventure Aboard The Pacific Star
11/21-22: Two Day Adventure Aboard The Pacific Star
12/26-27: Two Day Adventure Aboard The Pacific Star


---
Cabinsite Fun Dive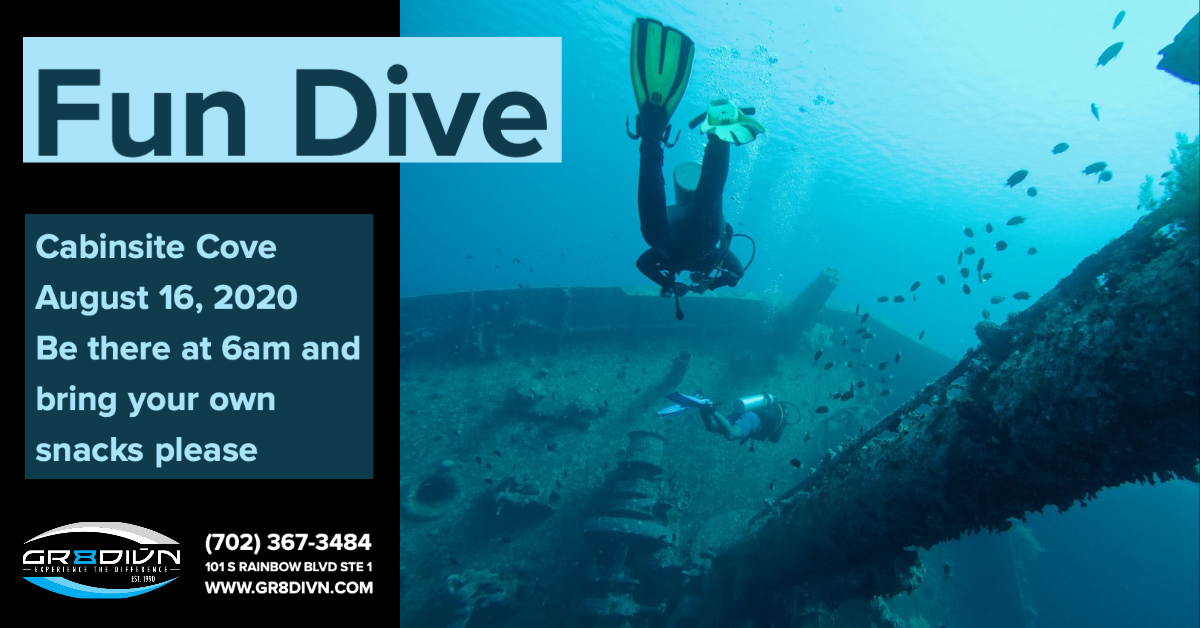 Sunday, August 16, meet us at Cabinsite Cove at 6am for some awesome fun dives! Be there to beat the crowd and have some fun with us! Non-divers are welcome to come too, so bring the whole family. Give us a call to let us know you're coming!

---
Navigation Specialty

This month at GR8 DIVN save big on the SSI Navigation specialty! Acquire these awesome skills with help from our all-star staff. Make sure to stop by the shop to get your compass and slate that you'll need for class. The classroom session will be on Friday, August 21 and the dives will be on Sunday, August 23. Give us a call or meet us in-store to sign-up and reserve your spot!